She Entrepreneurs is a recognised leadership programme for young emerging women social entrepreneurs in the MENA-region and Sweden. It is leadership training within the context of working for an equal and sustainable society using entrepreneurial principles, and the programme is based on real business experiences and collaborative learning. At the heart of the programme is personal and professional development. The aim of She Entrepreneurs programme is to support young women social entrepreneurs by giving them the tools and methods they need to develop their social enterprise.
Many women entrepreneurs face unnecessary and made-up obstacles because of their gender. She Entrepreneurs wants to capitalise on these women's capacities of bringing solutions to many of society's major challenges. She Entrepreneurs is intended for women who have already started to build a social business. It is not enough to dream of social change; one must also find it exciting to take risks to accomplish that change. If you are a social entrepreneur, you know how to turn ideas into action, and you want to understand how to develop your business to make it more effective at creating value for society and generate money.
She Entrepreneurs will give you:
The opportunity to develop your own social business initiative and acquire personal skills and innovative tools.
Support to think like an entrepreneur – from generating ideas to executing a strategic and sustainable business model.
Increased knowledge on topics such as social entrepreneurship, business development, communication, branding, sales, finance and funding.
Individual feedback on your social business initiative from leading social and business entrepreneurs and group mentors in Sweden and MENA. This feedback will give you the chance to rethink and fine-tune your idea.
A strong and active network of likeminded women entrepreneurs who inspire and support each other in driving important changes in society.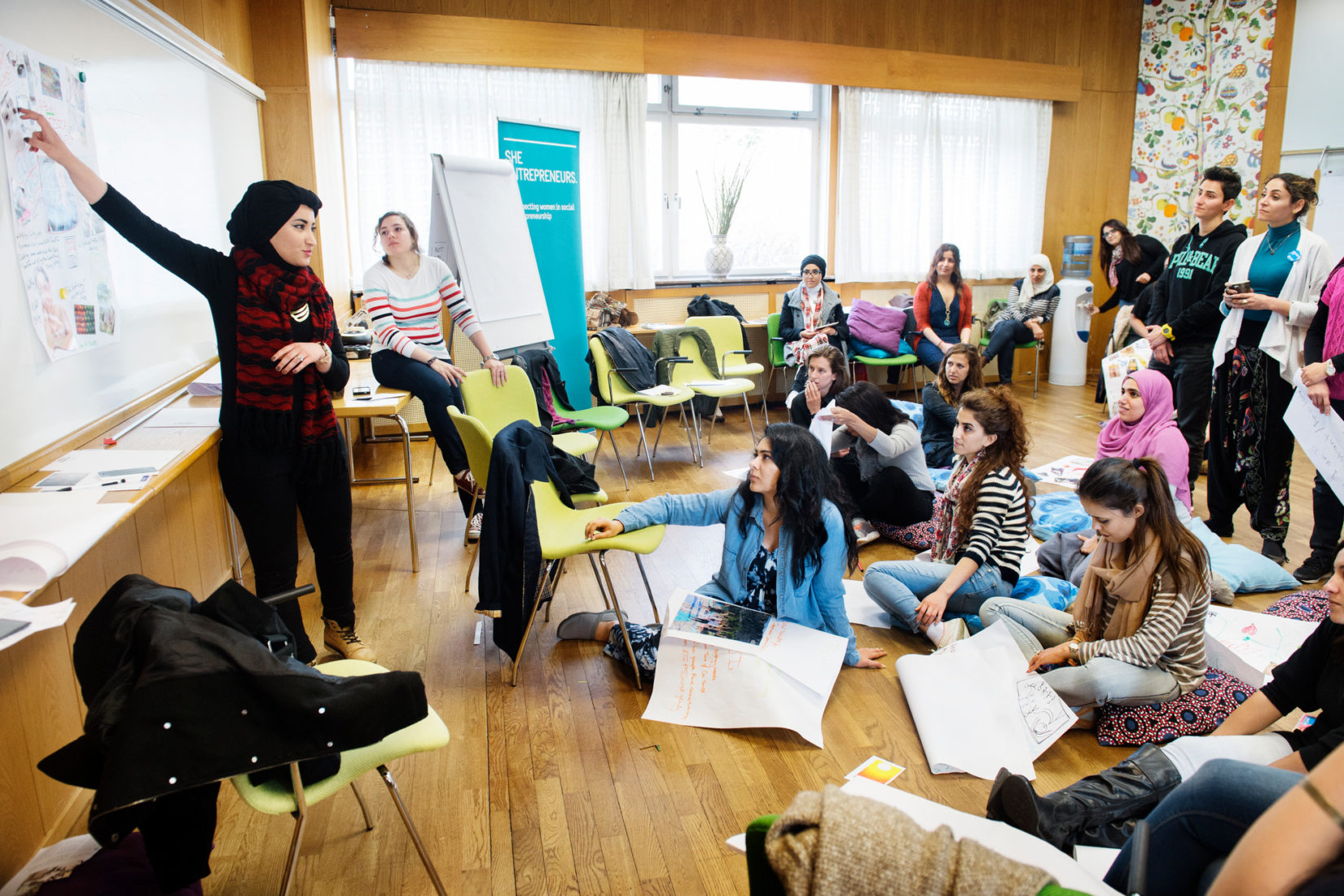 Can I apply?
You can apply to She Entrepreneurs if:

You are a woman between the age of 20 and 36
You are driven and have an ongoing business initiative aimed at positive social change through entrepreneurial principles
You are a citizen of Algeria, Egypt, Iran, Iraq, Jordan, Lebanon, Libya, Morocco, Palestine*, Sweden, Syria, Tunisia or Yemen
You have a proficient command of both written and spoken English, as well as basic knowledge of the internet and new technologies
The work on your social business must already be started and should be based and implemented in your country of citizenship or in one of the countries above.
You can take part in all parts of the programme
*Palestinian ID holders, including Jerusalem ID.
Please note that we are not able to make any exceptions to the eligibility requirements.
Programme timeline
She Entrepreneurs is made up of two and a half weeks divided into two modules at separate times. She Entrepreneurs is an intensive programme with a full-day schedule and many evening activities, and all selected participants will have to commit to participating in all activities of both Module 1 and 2.
Module 1 (In Sweden, 12 – 23 March 2018)
The module is set up with a highly practical approach that allows you to apply the lessons directly to your business initiative. Workshops and lectures on topics related to running a business in general and a social enterprise in particular will be intertwined with coaching in smaller groups from experienced mentors. Themes will revolve around budgeting, funding, marketing and communication strategies as well as on how to measure social impact and how to arrive at an appropriate business model. There will be visits and network opportunities with established Swedish entrepreneurs and organisations. At the end of Module 1 you will present your social business initiative to an advisory board consisting of senior entrepreneurs and business advisors.
Module 2 (in Stockholm, 16 – 21 September 2018)
Before the start of the second module, you will have worked on your own initiative locally, coached by group mentors over digital platforms. The focus during module 2 will be to maintain, build and expand the network, to continue the learning journey and follow up the development of the work so far. You will continue to build on your entrepreneurial skills through workshops, seminars and meetings with mentors.
Alumni stories
Taking part in She Entrepreneurs also means becoming a part of an alumni network that offers the opportunity to exchange ideas and multiply your impact. The She Entrepreneurs network is very much alive and active. It consists of alumni who continue to support each other's personal and professional development.
Costs covered and arranged by Swedish Institute
Training and content
Accommodation, food and domestic transport during the programme
Flight tickets to and from module 1 and 2
Insurance covering acute illness and accident when in Sweden
Visa costs
Costs covered and arranged by you
Domestic travel / airport transfer in your home country
Insurance when modules are held outside of Sweden