Director-general
Madeleine Sjöstedt is Director-general of the Swedish Institute and also chair of the board that on behalf of the Swedish public has insight into the work of the agency.
Department for communications and management
The department provides functional support, service and leadership in overarching agency matters. The department runs management processes within SI in order to support core operations. The department is responsible for internal and external corporate communications, crises management, IT and digitalisation, archives and registrar, support to the DG, financial management, HR and internal services. The department facilitates operational development and provides knowledge, methods and tools to the organisation.
Director: Anna Rudels
Department for international relations
The department enables collaborations, knowledge development and experience exchange with the target audiences of SI. Rooted in Swedish skills and profile issues, we build lasting relations and active networks with talents, opinion leaders and decision makers worldwide.
Director: Kurt Bratteby
Department for Sweden communication
Addressing SI's target audiences, the department will, in collaboration with other stakeholders, build engaging relationships, communication and public meetings that leads to a clear and multifaceted image of Sweden abroad. The department also implements global analyses and develops strategies for the department's own activities and as a support to other departments.
Director: Monika Wirkkala
Institut suédois – Swedish Institute Paris
The department is responsible for SI's presence in France and is charged with the task of promoting interest and confidence in Sweden and Swedish culture, as well as promoting exchanges between Sweden and France.
Director: Eva Kumlin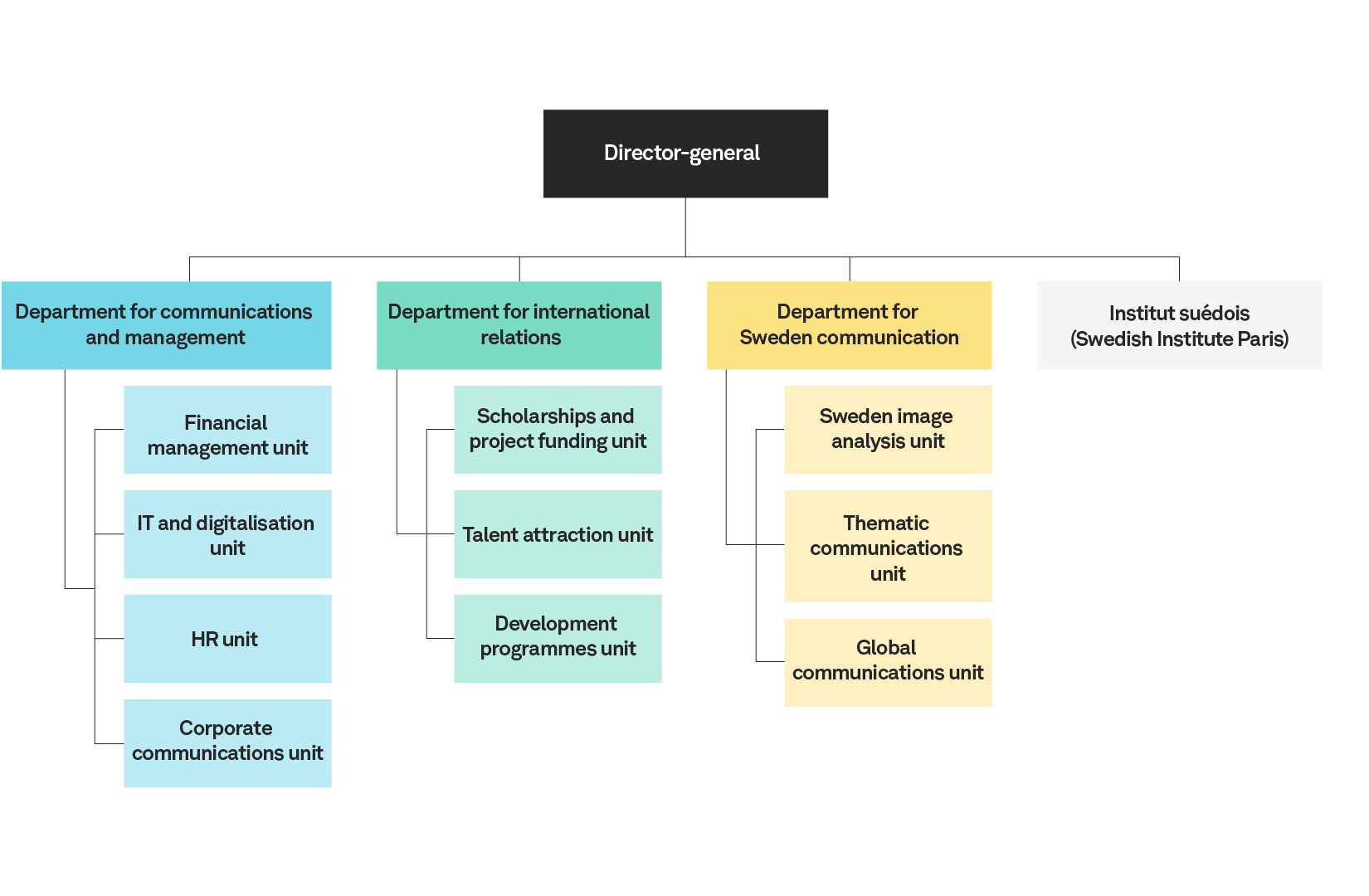 Advisory Council
Members of the Advisory Council:
Madeleine Sjöstedt is Director-general and Chairwoman of the Council
Mattias Fyrenius, General Manager Bonnier Carlsen
Mia Horn av Rantzien, CEO of SNS, Swedish Centre for Business and Policy Studies,
Olle Thorell, Member of Parliament (s)
Lena Adelsohn Liljeroth, Former Member of Parliament (m)
Joakim Appelquist, Head of International Collaboration Vinnova
Sylvia Schwaag Serger, deputy vice-chancellor Lund University
Martin Kragh, Head of Programme the Swedish Institute of International Affairs
Annika Levin, Former Cultural Attaché, France