Sweden and India have signed several bilateral cooperation agreements in recent years in areas such as technical and scientific cooperation, health and the environment.
The Swedish Institute hosted two events during the state visit that their Majesties the King and Queen of Sweden as well as representatives of the Swedish government took part in. The core of our events was sustainability and gender equality.
Director-General Madeleine Sjöstedt hosted a luncheon in New Delhi for 23 alumni in collaboration with the Swedish Embassy. The Sweden Alumni Network India was formed in 2019 and includes more than 400 alumni  who have studied in Sweden or participated in a Swedish Institute Leadership Programme. Since the start in April the Sweden Alumni Network in India have organized 14 local events. In connection with the state visit, another five events will take place, among them a marathon and book donation to an orphanage in Pune and a dialogue on safe cyberspace and sustainable development in Chennai.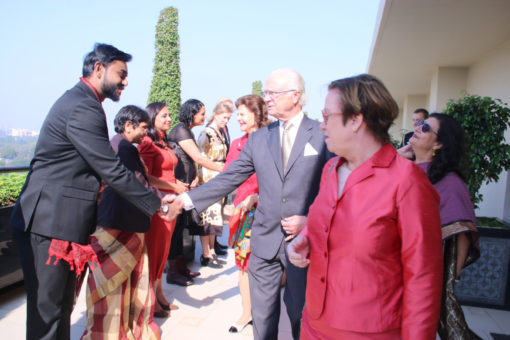 Gauri Kacherikar is a board member for Swedish Alumni Network India, Maharashtra & Goa chapter, and a Business Manager at Tieto. She was one of three alumi speakers at the luncheon, where she held a speech on women empowerment and shared her broad experience of working to improve the gender diversity ratio in the IT sector and the quantity of women in leadership roles.
– The luncheon with the King and Queen was an enriching experience and I am amazed to see the interest that they take in the topic of Women Empowerment and Sustainability, says Gauri Kacherikar. I had the privilege to sit right next to the Queen for lunch and I will cherish these moments for my lifetime.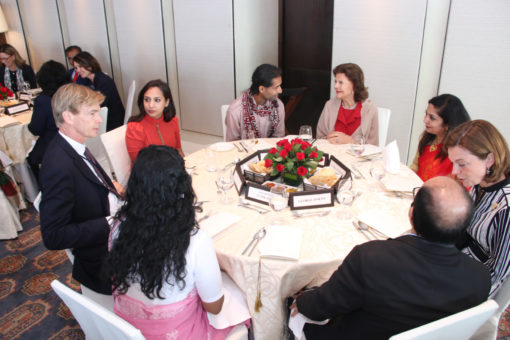 In Mumbai, the Swedish Institute, the Swedish embassy and KTH Royal Institute of Technology in Stockholm, in collaboration with the National Institution for Transforming India (NITI Aayog), organized TEKLA workshops for Indian girls between the age of 11 and 15. Tekla wants to offer young girls the opportunity to explore tech in a fun a creative environment. The goal is to involve more young women in STEM (science, technology, engineering, mathematics) which will change the underrepresentation of women in tech professions.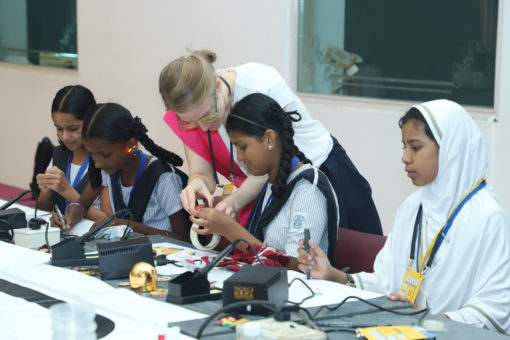 During workshops with Caroline Dahl from Rise and Stockholm Makers space, the participating girls got to meet the King and Queen of Sweden and talk about their interest in tech. Two more workshops were held the day after in Anjuman Girl's School with girls from three different schools participating and 200 girls learning about the experiences of Shaheena Attarwalin, director of UX at Zoomcar in her inspirational talk. Anjuman has one of the nearly 5 000 tinkering labs enabled by Niti Aayog and there is extra focus on science studies in the curriculum.
Sadipha was one of the students:
– I really enjoyed the day and the teacher (Caroline Dahl) was really nice. I learnt to smoulder, I learnt about closed circuits and light switches and much more. And the lady who talked to us, Shaheena Attarwalin, was just like me when she was little.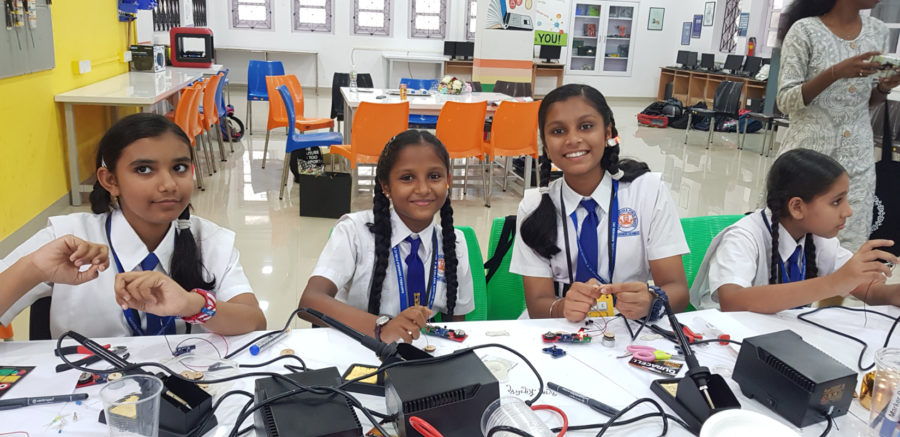 Tekla Dialogue was moderated by Rupali Mehra, television presenter and founder of Content People AB. The panel included Priyanka Anand, Vice President and Head, HR for Market Area South East Asia, Oceania and India at Ericsson, Srimathy Kesan, Founder and CEO of the science and technology incubator Space Kidz India (SKI),) also held an inspirational talk for the participating girls the previous day, Caroline Dahl from the Tekla team, Anna Roy Senior Adviser at NITI Aayog and P.M Gururajan, Professor in Materials Science at IIT. The discussion brought up the challenges and still prevailing inequality within the STEM sectors but also highlighted many positive developments and initiatives.
The events brought to light the important relations and opportunities for cooperation that will continue between India and Sweden. Madeleine Sjöstedt Director-General of the Swedish Institute acknowledge great potential for continued cooperation:
– We want to continue to support the valuable networks and long-term relations that exist between the countries, regarding for example sustainability, gender equality and democracy. By making use of both countries' expertise and resources, we can jointly work to find solutions for global challenges.
Last updated: