During this meeting, the new alumni get a chance to meet representatives from established alumni networks and learn why and how they can continue to be change agents when returning back home. This year this inspirational meeting was held online on 8 June, with 50 new graduates participating along with around 20 alumni representatives.
The Ambassador of Sweden to Indonesia, H.E Marina Berg, and Deputy Head of Mission in Kenya, Michael Hjelmåker, participated through video messages. They welcomed the new graduates back home and emphasised the importance of alumni as Sweden ambassadors and connectors.  Four alumni gave inspiring presentations on their work from different perspectives, resulting in interesting and productive discussions in the break-out sessions.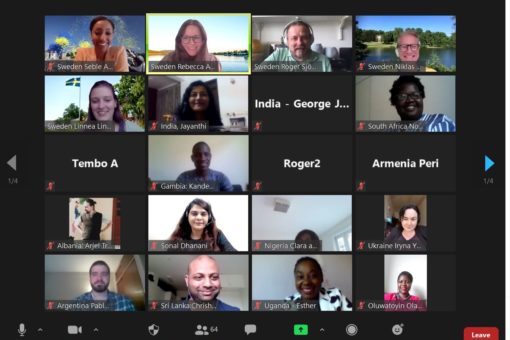 The alumni are vital in the continuing exchange of knowledge and cooperation but also in the international dialogue on democracy, human rights, sustainability and gender equality. The alumni networks provide platforms for alumni to stay in touch with Sweden and each other. During 2019 12 new networks and chapters were formed in countries and regions such as Brazil, Cambodia, India, Kosovo, Myanmar, Peru, Taiwan and Turkey. A warm welcome to all new members of the SI global alumni community!
Last updated: