The SI Scholarship for Global Professionals awards academic professionals with an ambition to change their home country for the better. They receive a fully funded scholarship to carry out master's studies in Sweden related to the UN Agenda 2030 goals and sustainable development. Many come with vast experience working with change-making in their home countries and looking for an opportunity to learn from Swedish approaches to sustainable development.
Grecia Dalila Romero Sabillon studies Industrial Management and Innovation at Halmstad University. She has experience working as a teacher and has the ambition of improving the education system back in Honduras.
– Something I'd love to do is to help modify the university curriculum in my country because it is very outdated. Getting this knowledge here, in a country with high education level and technology advancement, I will be able to transport that home to my country that is still developing. Education is something that we really need to focus on, she says.
The SI Scholarship gathers a vast diversity of scholarship holders, all with the ambition of creating change, something in which Kurt Bratteby, believes Sweden has a lot of expertise in.
– At SI and I dare say – in Sweden – we believe in open and inclusive societies. In freedom, equality and sustainability. The Swedish Way is about creating a radically better world, and doing it together. We believe that together with you – we can make the world a fairer, happier, greener, more open, and more inclusive place, says Kurt, Head of the international relations department at SI.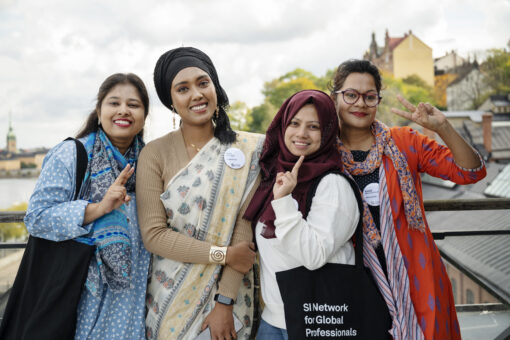 To support these future global professionals, SI provides each scholar an opportunity to develop their professional network and skillset through a set of trainings, seminars and study-visits organised to local enterprises. The offer – a network of future global professional – is an aspect that many scholars consider a clear advantage and reason for choosing Sweden as a study destination.
-What drew me to Sweden was the opportunity to network with professionals. I read an article about Sweden's cash-less society and I just had to figure out what this was and learn more about advancing these types of systems, says Amos Prince Kastigo from Malawi. Amos is studying Real Estate and Construction Management at KTH and has great expectations for his time in Sweden.
-I have got a lot of expectations, but most importantly, learning how Sweden has been able to manage their land-systems, the house-systems and the clean environment itself, he adds.

Today, SI has 686 scholars studying at 29 different higher education institutions all over Sweden. The Swedish Institute has worked since 1945 to strengthen relations between Sweden and the rest of the world. The Global Professional Scholarship programme is one of the tools in supporting this mission. Read more about the scholarship programme here.
Last updated: