Mariya Levonova  and Marta Semeriak work at The Centre of United Actions, an NGO that strives for developing inclusive, transparent, and accountable democratic institutions that function with integrity at the national and local levels in Ukraine. Tetyana Teren is the Executive Director of PEN Ukraine, an organisation for writers who work to protect freedom of expression and support writers at risk. 
As leaders in the civil society in Ukraine, what would you say are the main challenges that you deal with today? 
Marta Semeriak, deputy CEO for Organisational Development of The Centre of United Actions says "Civil society is a key driver of reforms and democratic changes in Ukraine, and its main challenge now during the war is to keep pushing for a democratic future for our state despite the constant physical and emotional exhaustion caused by the war. It is difficult to keep the pace of promoting reforms adhering to high standards of work and understanding the scale of responsibility of the civic organisations in preserving the rule of law and advancing the European future of Ukraine. Ongoing tragedies around, despicable atrocities and the destruction of everything we have built before are creating a new unimaginable background for civic organisations' work." 
Mariya Levonova, Acting CEO of The Centre of United Actions, continues: "Yes, and beyond that the psychological status of the team members is of course strongly influenced by the flow of the war. Last night we had 35 drone attacks only in Kyiv and no one in the team slept at night. This is what we have been facing on an everyday basis for more than a year now. It's a huge challenge for every institution and every organisation in Ukraine. We are trying to build resilience to work under these hard conditions – but it is an everyday challenge indeed. Another challenge is that it's hard to plan strategically and do the long-term planning that we are used to. Our stakeholders, such as authorities on different levels, are working under martial law which means that there's a lack of information available for our work and also a lack of readiness to create new policies and make new decisions."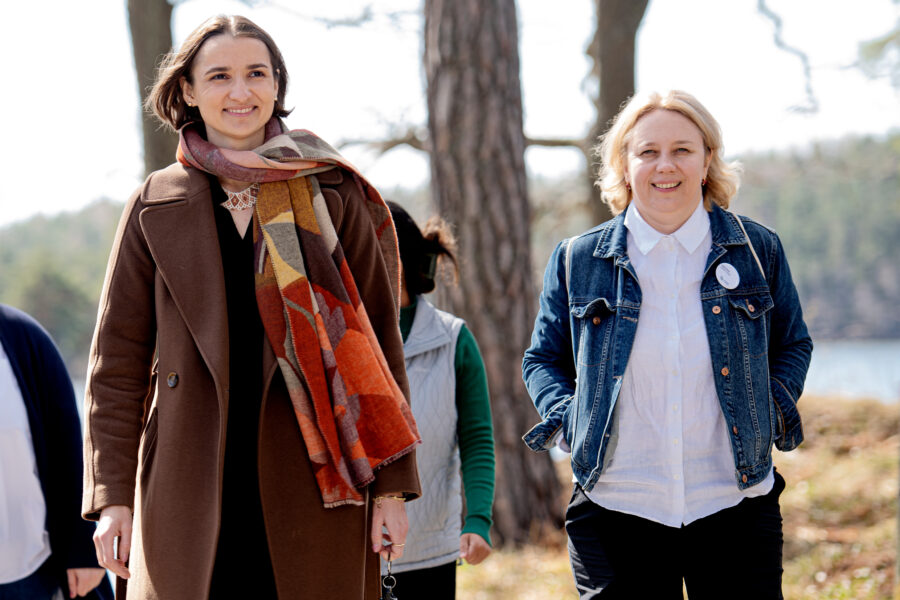 Tetyana Teren, Executive Director at PEN Ukraine adds:
"It is difficult to think about challenges in war time, because our main task is to just stay alive. But of course, as a representative of cultural and human rights communities in Ukraine I am thinking of how I can support our communities in these difficult times. And how we can keep on sharing with the world the true information about the war and the Russian aggression and crimes against Ukrainian culture, media and humanity. In addition, I'm thinking about how I can strengthen our organisation in these difficult times because I understand that this is an important basis for a democratic country: to have strong organisations and institutions.

How are your organisations trying to meet these new challenges?  
Marta: "To reach the ambitious goal that we have in our organisation during the circumstances we are in, we need to have enough inner resources to guide and assist national and local authorities in this process. We started by developing and building up the organisation's internal capacity to adapt to the new reality we have to live in. Psychological support, clear rules and procedures, the flexibility of working hours, and various trainings are just a few things that we are implementing to make the team hold on and keep reaching the organisation's strategic goals towards further democratic development of Ukraine." 
Tetyana, adds that their focus has always been to protect the freedom of speech, popularisation of Ukrainian literature and culture, upholding the values and standards of independent journalism and establishing international cultural cooperation. "But after the beginning of Russia's full-scale war against Ukraine, PEN Ukraine has been focused on monitoring Russian crimes against Ukrainian media and culture, supporting Ukrainian cultural community, and documenting the experience of war." 
Marta continues: "We all are expecting victory of democracy and preserving our independent state. The European democratic future of Ukraine is the main cause we are fighting for both on the battlefields and in advancing reforms necessary for keeping rule of law, democratic principles of governance and balance of powers in place." 
You have now been a participant of SI Leader Lab for five months, what are your main takeaways from the programme?
Mariya: "When you live under war conditions you start to normalize this situation after some time. I'm grateful for the opportunity to get out of my personal everyday context for a while and to see the normal world. I'm also grateful for the opportunity to meet people from different countries, regions and cultures. It has helped me to understand that we are not the only ones facing these problems and that we are not alone in this challenging world."  
Tetyana also mentions the strength of the network. "I think one of the most powerful parts of SI Leader Lab is how you can build such a strong network with individuals and organisations from 22 different countries in such a short time. It has been a unique opportunity to meet a lot of new people and to build new partnerships with organisations in other countries. I know that in the future it will be very important to have these contacts to be able to start any cooperation. Thanks to the Swedish Institute I now have strong connections to a lot of different people and organisations around the world. 
Marta stresses the importance of the tools gained in the programme: "When the whole team is under continuous pressure due to the war it is difficult to reach creative mode for developing ideas aimed at promoting democratic changes. The path from survival mode to developmental mode is incredibly difficult. The ideation tools which were practiced during SI Leader Lab made a significant impact on transforming the mindset of the team. The process of generating and developing ideas became more inclusive, productive and fun. It made all of us think about the future and growth of the organisation and our country despite the constant security threats we are facing every day." 
Tetyana agrees: "My main task right now is to use the tools that I gained in the programme to strengthen my team. For me as a manager for PEN Ukraine I think this is my main mission: to continue to build and strengthen my organisation to help our community to become stronger after Ukrainian victory" 
SI Leader Lab brings together 100 influential civil society leaders from 22 countries globally who are working for the Sustainable Development Goal 16 – just, peaceful and inclusive societies. The programme is an opportunity to grow as leaders, exchange experiences, form new connections, and to try out innovative tools and methods connected to advocacy with peers working in similar contexts. Find out more about SI Leader Lab here.
Last updated: