Criteria:
Women
Are you an entrepreneur with a vision of making an impact on society through your business? Do you want to take the next steps to grow? Become part of a strong network of impact-driven female founders in the Middle East, North Africa and Türkiye through our leadership programme She Entrepreneurs.
Read more about "She Entrepreneurs"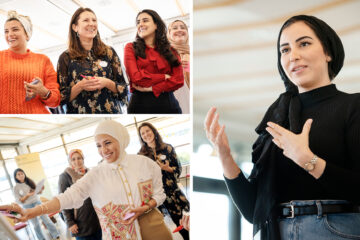 She Entrepreneurs
Info:
Women entrepreneurs in the Middle East, North Africa and Türkiye
Available for 9 countries
"The programme was really straight to the point with amazing mentors and an amazing team!"
Maria Frangieh - She Entrepreneurs 2021
"This is an extremely important network. Although we come from very different industries and backgrounds, I found the exchange of knowledge priceless. Each one of us has challenges and victories. Sharing those completes a perspective that is missing when you're alone or when you work only with people that are like you."
Basma Uraiqat - She Entrepreneurs 2019
"She Entrepreneurs planted the seed of how to develop my social enterprise and it got things going. The programme definitely had a tangible impact!"
Nora Belahcen Fitzgerald - She Entrepreneurs 2015
Contact details
Please send any questions to
she@si.se
Programme Manager
Maria Henoch
Programme Administrator
Nadia Sundbom